Workout Date

- 05/24/2018

Q In Charge

- Perry Mason

The PAX

- House, The Muff, Wax On, Spandex, Kindergarten Cop, Emeril, Floater, Almond Joy, Grrr, Iceman, Courtesy Flush, Homer Simpson, Training Wheels, Perry Mason

AO

- The Station
14 men would not be deterred by the weather report, which read "Hotbox from Cool Hand Luke," and posted at The Station this morning.   Most of the PAX were decked out in red in memory of Badger from F3 The Fort, who passed away too soon this week.  #TAP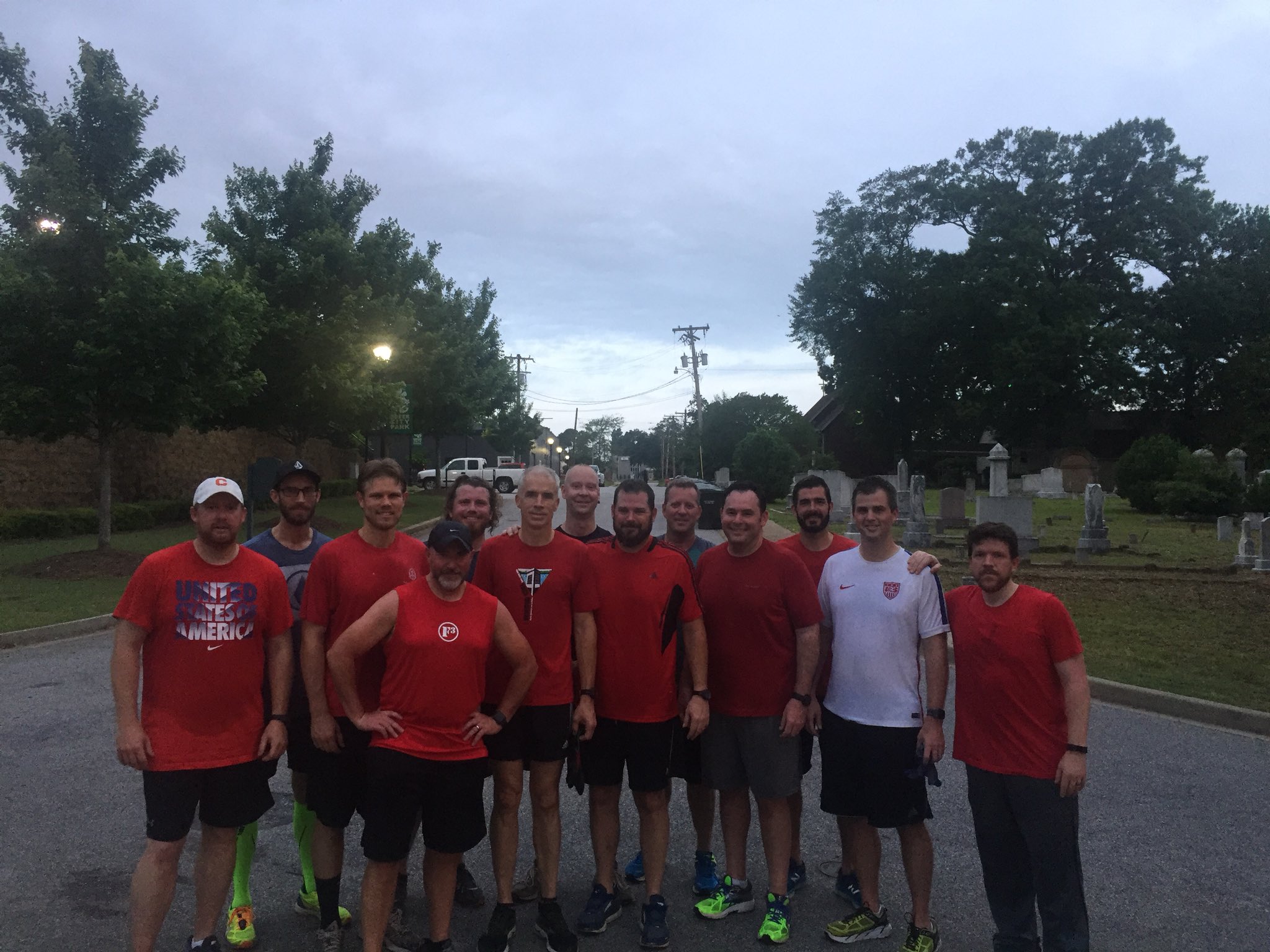 Warmup
SSH x 20 IC
Clock merkins – 5 OYO, turn 90 degrees, 5 more, total of 20
High Knees x 20 OYO
The Thang
With Memorial Day approaching, what better way to get ourselves ready than with a trip to Veterans Park and Tank Street?  We mosey down Randall and take the turn onto Trade Street to find – a train blocking the path.   We grabbed some wall to see if it might clear out, but it seemed to be parked there fore the long haul.
While there was some mumblechatter about jumping the train like the Pharm crew did a while back, YHC thought the wiser course was to find a different way around.  So we turned around and  took Randall to 14 and then turned onto Cannon to get us to the park.   There was a helpful pit bull along our new route to spur the 6 along, and a parade of cars along the route.  I thought the Mayor could have at least rerouted traffic for us?
The longer route meant I had to modify the workout.  I wanted to do 7s up Tank Street and 4 corners around the park, but had to go with just the former.  Hand release merkins at the top, corkscrews (double count) at the bottom.
Next we grab some wall to recover a bit before heading over to the fountain (more like a well, since the wall is so high) for big boy step ups.   Next 20 dips OYO and it is time to head back.
The train was finally gone, so we take the direct route back up 101 towards the AO, stopping once to gather the 6 and do some ab work.  Before arriving at the circle, we stop at the covered walkway to alternate between lunge walks and bear crawls.  Time for 6/7 minutes for Mary.
Mary
YHC runs through about 5 exercises (heels to heaven, plank jacks, shoulder touches, erectors and lbcs are the ones I recall) before going around the circle to finish it out.
Naked Moleskin
YHC suggested that the PAX rekindle the tradition of bringing the name of a fallen soldier to their Memorial Day posts and mentioned Michael Murphy, since there is a Murph at The Station Monday.
In a bout of irrational exuberance (or liquid courage), 8 PAX committed to the Knock on Wood 100 mile relay in about 20 minutes on Twitter Tuesday night.  Most of those same brave souls also volunteered for the P200 Station team at the same time, so it appears we have 9 runners committed for that race along with 1 driver.  Just need 3 more runners and another driver.  Let Grrr know if you want in.
We have a guest Q from Blade out of F3 Cape Fear Saturday, so plan to be there or at the Legacy convergence that morning.  There is a Murph at The Station on Monday morning as well.
Prayers for Badger's family.  Prayers also for Coach Perry and the Pyburn family.
2nd F at Wild Aces tonight starting at 5:30.