Workout Date

- 07/24/2021

Q In Charge

- One Direction

The PAX

- No Bars, Cockpit, Benign, Whisper, Dusty, Tebow, Red Rider, Hand Rail, YHC

AO

- Pitchfork
9 showed up for what supposed to be a Pineapple inspired tour of Pitchfork, being that Tebow and YHC are fresh off of our Pacific Rim duty in Maui. What actually transpired had more to do with the 34th Summer Olympiad and no one was disappointed…uh, yes they were!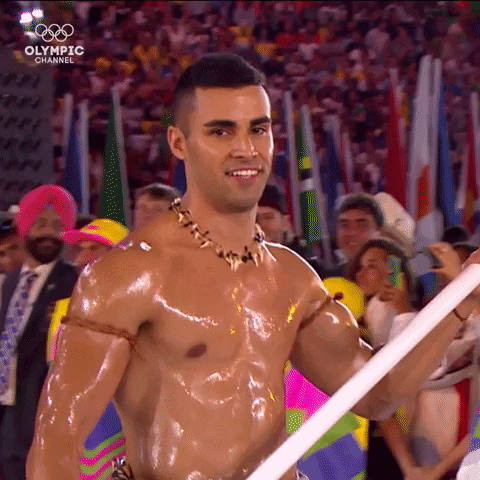 WARMUP:
SSH x 20
IWs x 20
Windmill x 20
TTT x 20
THE THANG:
Being that the OG Shovel Flag was present (yes, the actual very first Shovel flag that SR ever built) showed up to adorn the PF soil, it was used as part of the "Opening Ceremonies". YHC had to utilize a little Gorilla Tape just to get it to the AO.
We took laps about the SF lot with each PAX sharing a little Ancestry DNA history and carrying the SF. Thank goodness that we did not have 20 PAX, as 9 Laps proved to be plenty. Between each lap we had Olympic Trivia, with a correct answer resulting in Zero Burpees and a Wrong answer resulting in 10 Burpees. We did a total of 20, so the PAX's knowledge was pretty respectable. Missed questions you ask??: How many Rings on the Olympic Flag = 5 (1st Question) and Which Nation has the Flag Bearing Phenom known for entering the Stadium all Lubed Up with nothing on but a Loin Cloth = Tonga
Comments already made that this was more running than expected. Just wait for it….
Next, head to the Speedway and pair up for Classic Catch Me if You Can with 5 merkins up to 25. Now we have done some running.
Next, Head to the Gymnastics floor for, yep, Men's Gymnastics, complete with Parallel Bars, Pommel Horse, High Bar, and Rings (yes, we actually did four apparatus, but you will have to use your imagination). Let's just say we ALL have a new respect for those guys
Finally, we headed to the Basketball Wall for a Sumo Inspired leg shredder. 30 second wall sit, followed by a Sumo walk to the line. Repeato twice more, with no Sumo walk on the third.
6MOM (1D's Ab Slicer) – All in cadence
Low Dollies x 15
MC x 15
LBCs x 15
MC x 15
Flutters x 15
MC x 15
Smoked
Thats a wrap!
NAKED MOLESKIN:
It was great to be back as the Q.  Truth be told, if it wasn't for Cockpit's friendly reminder on Thursday, YHC would have forgotten (Thanks!). 2.0 Miles were accumulated. IT really has been great to be back with the PAX and the rust continues to get knocked off. The post vacation slumber is real and this was just what YHC needed.
ANNOUNCEMENTS:
Extreme Week starts Monday and consists of 7 workouts in 6 days with a convergence extra workout on next Saturday with 2nd F to Follow. Look it up for Details.
Hog and Barrell Bourbon and BBQ Festival coming to downtown GVille 11/05-11/07. Sign up for some great 2nd F.
PRAYER REQUESTS:
Pray for the Simms family as they recently lost their Dad to Covid. Three young kids.
Unspoken as well.
Aye!
1D